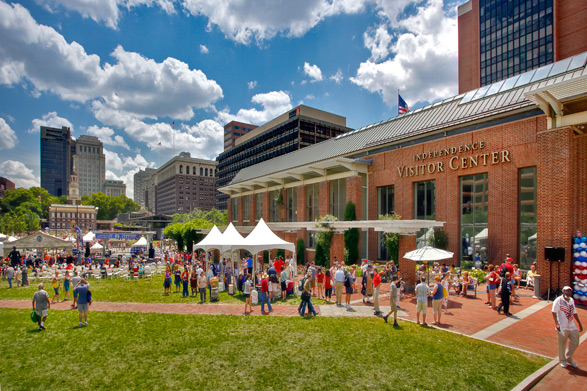 Whether you're driving or taking public transit, our five easy steps will help make your visit smooth and memorable.
1.) Bringing your car to visit a friend or relative that lives in a Residential Permit Parking zone? We have Temporary and Day Permits.
These permits make it easier for visitors to park on blocks without having to worry about time restrictions. If you display a temporary permit, you still need to obey all other traffic regulations, but this permit will make parking in the city much more convenient for visitors.
Your friend or relative should visit our office at:
701 Market Street – Suite 5400
Monday through Friday between 8:30 AM and 4:45 PM
And bring with them proof of residence (driver's license, utility bill, etc.) and the license plate information for the person who needs the temporary or day permit.
Temporary Permits are $15.00 for 15 days.
Download Day Permit Applications here.
Day Permits are $35.00 for a pack of five permits and you may use them for up to one year after purchase.
2.) The PPA Parking Locator!
Our innovative online Parking Locator will show you just where to park. Type your destination in the search bar to locate the best parking areas.
We're happy to say that there are lots of exciting destinations in the city, but sometimes that makes it tough to decide. Use our "Popular Destinations" bar on the locator site and let us provide a few suggestions for you.
3.) Using Parking Meters
Watch this instructional video promoted by our friends at VisitPhilly and learn just how easy it is to use parking meters in Philadelphia.
4.) On Street Parking or Garage?
Many meters have a two hour time limit, so if you're moving from place to place, this is a great option. The rate for meters downtown is $2 per hour.
If you plan to explore by foot and need a spot for your car, another option is one of the many parking garages found throughout Philadelphia. The rates of these garages vary, but you won't have to worry about how much time is left on your meter or getting a ticket.
5.) Taxis
Hail one with a wave of the hand and whistle, or pick up the phone and call for a cab. Either way, there are plenty of taxis all over the city to take you around. Here is a list of options:
PHL Taxi
641 N Broad St, Philadelphia, PA 19123 » Map
(215) 222-5555
Yellow Cab
Philadelphia, PA 19019
(267) 672-7391
All City Taxi
2024 S 12th St, Philadelphia, PA 19148 » Map
(215) 467-6666
Liberty Cab Co.
842 S 2nd St Ste 6, Philadelphia, PA 19147 » Map
(215) 389-8000
More taxi listings can be found on Yellow Pages.
Parking in Philadelphia has never been this easy. We hope your trip is an exciting and carefree experience!
If you have any questions, visit our feedback forum here.
Tags:
city of brotherly love
,
parking permits
,
parking tips
,
philadelphia tourism
,
residential parking
,
temporary permits
,
visiting philadelphia
,
visitor parking