National Work Zone Awareness Week

This week, we are proud to support National Work Zone Awareness Week, which occurs April 15-19.  As the traditional start of construction season, the U.S. Department of Transportation uses this week in April every year to promote motorist and worker safety. Throughout the week the Federal Highway Administration works with state departments of transportation, local officials and industry groups to promote improvements in work zone planning and design, increased worker training, strengthened law enforcement near work zones, and heightened awareness among drivers.
"As highway construction shifts into high gear, we're asking all Americans to take roadway safety seriously and protect themselves and their passengers by paying attention and slowing down when driving through work zones," said U.S. Transportation Secretary Ray LaHood.
This year's theme, "Work Zone Safety: We're All In This Together" highlights the complexities of work zones, especially in urban areas and the need for awareness proper planning by those affected by work zones.  Unfortunately, there are instances where highway workers and motorists alike are put at unnecessary risk due to poor planning.  Careful communication is needed between government agencies, EMT services, fire and police departments, construction crews and construction companies to ensure the safety of road crews and motorists.
The men and women working in road construction zones are helping maintain and improve our highways and they deserve to be able to do that work safely.  So when you see those orange cones or blinking lights on the road, be sure to slow down and be aware of you surroundings, you could be saving a life.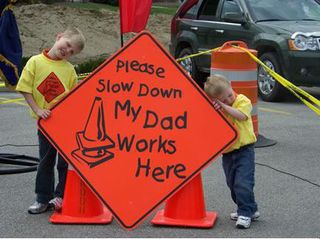 For more information on work zone safety visit www.JustDrivePA.org.