PPA RECEIVES ESGR RECOGNITION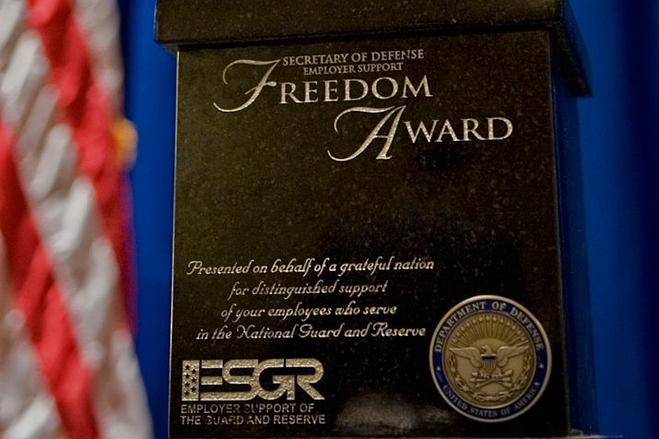 Here at the Philadelphia Parking Authority, we've always recognized the importance of our employees who also serve our country. When they're not helping us efficiently run the city's transportation system, they're protecting us. Recently, the Pennsylvania Committee for the Employee Support of the Guard and Reserve (ESGR) recognized the PPA for our outstanding support of our brave men and women serving in the National Guard or Reserve.
One of our employees, Jonathan McGuire, thought so highly of the PPA's efforts that he nominated our organization for the prestigious Freedom Award. This award is presented annually by the Secretary of Defense to the top 15 US employers, and is the highest recognition given by the US government to employers for their support of employees who also serve the country.
The Pennsylvania Committee held its annual State Awards Luncheon at the US Army Heritage and Education Center in Carlisle, PA in September. First Deputy Executive Director Carl Ciglar and Jonathan McGuire were presented the ESGR Above and Beyond Award, representing the official gratitude from all seven branches of Guard and Reserve Service Components. The Above and Beyond award recognizes that the PPA has gone above and beyond legal requirements of the Uniformed Services Employment and Reemployment Rights Act (USERRA). By going beyond the legal requirements, we're supporting the Guard and Reserve and helping our enlisted employees to be prepared to serve when needed.
Ciglar expressed his deep gratitude to the Committee for their recognition and offered a continued commitment to our service men and women by the PPA.