Mother's Day Has Deep Roots in Philadelphia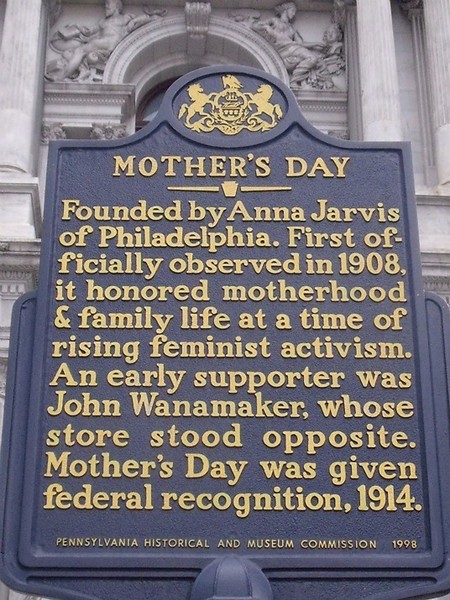 NY1 News has discovered the deep connection Philadelphia has to Mother's Day.
If you've always thought of Mother's Day as a Hallmark holiday, then NY1 travel reporter Valarie D'Elia says you should pay a visit to Philadelphia. She filed the following report.
Mother's Day has special significance to Philly resident Ethan Jarvis. His family name is associated with the origins of the holiday.
According to a marker across from Macy's, Anna Jarvis, a distant relative, was the force behind putting Mother's Day on the calendar, which later became a national holiday in 1914.
"We love our mothers," Ethan Jarvis says. "Our mothers raise us, take care of us and really nurture us, and the bond is so strong that Mother's Day, that's why it's become so popular, because people are drawn to the holiday."
"The very first Mother's Day celebration happened at Wanamaker's right over there," said Desiree Peterkin-Bell, a Philadelphia city representative. "That's where everyone came together in 1908 for the first celebration of Mother's Day here in Philadelphia.
Even though the sign is prominently positioned, Philadelphia is better known as the city of brotherly love than motherly love.
"I feel like it's starting to be the city of motherly love. I never in a million years thought I would be happy having small children living here," says Allison Bell, a Philadelphia resident. "But it's great."
Among the activities planned for Mother's Day is a tea with a young Betsy Ross.
Another fun event is a visit to the African-American museum, where on display are the gowns worn by '60s Motown sensation The Supremes.
Or, hop on board a special Mother's Day meal and trolley tour, highlighting some of the newly restored murals by female artist and mother Meg Saligman.
To Moms at the PPA and around the world, thank you for all that you do!