Parking Social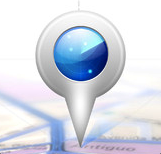 With over 2,500 miles of streets in Philadelphia, and services from the Philadelphia Parking Authority like garages, lots and metered parking, you'd think it would be easy to find a parking spot.
If you've ever driven in Philadelphia, you know that's not always the case. With an influx of restaurants, events, the arts and education, comes an increase of vehicles.  Finding a parking spot can be complicated, to say the least, especially when it comes to parking on the street. You want to park close to where you are going, but the chances of that happening are slim– very slim.
That could all change with a new app: Park Tag.
Park Tag is developing a new smart phone app to increase your chances of finding rock star parking, and hopefully  make your city-dwelling life a lot easier.
The goal of Park Tag is to make parking a social experience. You add your friends, neighbors and colleagues to the app and you can let each other know when a spot is open in a given area.  This app can save a lot of people time and money by avoiding idling around while waiting for a spot on the street to open up. You can add all of the cars in your family, and tell the app which car you are parking. All you have to do is download the app, add your cars, allow it to find your location, and voila, you have yourself a way to find street parking quickly!
But if you're not a car driver, this app is still for you. You can add your bicycle, your motorcycle and even a boat.
The iPhone app has just been released worldwide after successful Beta testing in Germany, the Netherlands and Turkey. An Android app is also in the making.
We here at the PPA know that on-street parking can be hard to find.   But it can be easier to find a spot, and it can also be a social experience– just download the free Park Tag app!