87 Years of The Ben Franklin Bridge!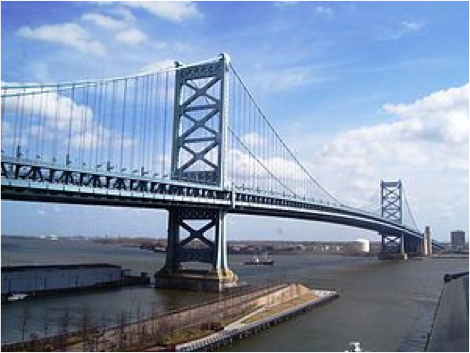 We're proud to be a part of one of America's oldest cities, and appreciate how far we've come as a community. Things we take for granted everyday – trash pick-up, designated parking areas, an expansive public transportation system – took many years to establish. Today, Philadelphia is becoming even more efficient as it becomes a hub for transportation to New York, Washington D.C. and New Jersey.
But, it wasn't always easy to get from here to there, wherever "there" may be. Imagine this: it's 1922 and you're packed and ready for a vacation at the Jersey Shore, only to be stopped in an enormous line of cars waiting for the ferry to cross the Delaware River.
Well, four years later on July 1, 1926, the Benjamin Franklin Bridge was opened to regular traffic as a solution to this problem. Back then, it was called "The Delaware River Bridge." It wasn't until 1956 that it was dedicated to one of Philadelphia's most celebrated citizens, Benjamin Franklin.
The bridge has been a vital bloodline to surrounding communities for the past eight decades. It carries more than 100,000 vehicles per day, along with 40,000 commuters on PATCO trains. As the bridge stands 135 feet soaring above the Delaware River, it is hard not to be in awe of the beauty and stature of such a historic landmark.
So, what was it like crossing The Ben Franklin Bridge in 1926? When it first opened, it was the longest suspension bridge in the world! There were no speed limit restrictions, as drivers were expected to use common sense. The toll prices were variable, whether you were crossing the bridge on your horse-drawn vehicle (the more horses, the higher the price), or simply walking across. For example, pedestrians could cross the bridge for free, while a horse and rider had a fee of 15 cents.
When crossing the bridge today, 87 years later, you will be faced with a $5 toll when returning to Philadelphia. It is currently the 57th longest suspension bridge in the world, as other bridges were built using more advanced technology.
The bridge is a popular place to go for a run or a nice evening walk to catch a great view of the Philadelphia skyline, arguably the best view around. You can also catch a beautiful view of the lighting system that was installed on the bridge in 1987 as part of a bicentennial celebration. The Delaware River Port Authority often customizes the lights for certain events or holidays being recognized in the area.
Celebrate the Ben Franklin Bridge, and how it helps ease the trip from Philadelphia to New Jersey, during its 87th year, by driving, biking or walking across this wonderful structure.