Bulletin Building
History of our old home
Designed by George Howe with Louis McAllister Jr., this simple modern structure was built as the offices and production plant for the Philadelphia Evening Bulletin newspaper.  It was Howe's last major commission.
The building was famous amongst Philadelphians for its giant rooftop billboard that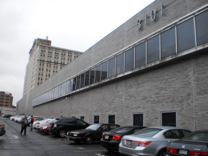 faced Center City and flashed news headlines.  The Philadelphia Evening Bulletin company went out of business, and eventually Drexel University purchased it.  The Bulletin Building now houses offices and facilities for Drexel.  The Philadelphia Parking Authority leased office space, garage, and storage space in the building for 15 years, a lease that concluded at the end of April, 2013.
In April, 1847, Alexander Cummings founded Cummings' Telegraphic Evening Bulletin in Philadelphia to take advantage of new technology that brought news over telegraph wires, giving readers same day reports from the battlefields of the Mexican War.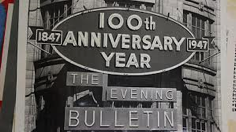 Under the five decade editorship of Gibson Peacock, The Bulletin grew in reputation, but remained modest in size.
Upon Peacock's death in 1895, ownership passed to William L. McLean. Under his leadership, the newspaper's circulation increased from 6,000 to 150,000 in just 15 years, and it remained the city's largest newspaper for some 70 years, reaching a peak of near 800,000 in the 1960's.
 A third generation William McLean was at the helm in 1980 when the paper was sold to Charter Co., which closed it in January, 1982.