The Phlash Is Back!
By Albert Lee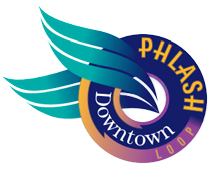 Sightseeing in Philadelphia just became a whole lot easier with the return of the Philly Phlash!  The Phlash is the seasonal transportation loop making its rounds to all of Philadelphia's world-class attractions that include Eastern State Penitentiary, the Philadelphia Zoo, and the Reading Terminal Market. 19 stops in all and priced at just $2 per single ride, it's the quick and inexpensive way of seeing all that Philadelphia has to offer.  Visitors can purchase an all-day pass for just $12 and children 4 and under and seniors (ages 65+) always ride free.
Driving into the city? Take advantage of Park and Ride!  Park your vehicle in any of these Philadelphia Parking Authority Autopark locations below and enjoy discounted parking rates for riding the Phlash!
PHLASH Discounted Parking Rates*
 2nd & Sansom Streets, $7.00
 Independence Mall, 5th& Market Streets, $10.00
 8th & Filbert Streets $8.00
 Jefferson, 10th & Ludlow Streets $7.00
 Gallery, 10th & Filbert Streets $6.00
*Enter after 9:00 AM and exit by 7:00 PM
*RATES ARE SUBJECT TO CHANGE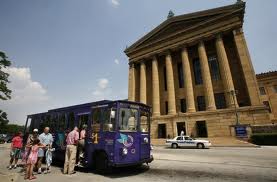 New for 2013, the Phlash now offers a new mobile site accessible from any browser and smartphone that allows riders to see the stop nearest their location. Check it out here (link to mobile site- www.ridephillyphlash.com) and we'll you see in a PHLASH!  
Operating Hours:
10:00 a.m. – 6:00 p.m.
May, September, and October: Fridays, Saturdays and Sundays only
10:00 a.m. – 6:00 p.m.
Memorial Day – Labor Day: Daily
Service every 15 minutes 
All-Day Passes can be purchased at these Visitor Center locations:
Independence Visitor Center: 6th &  Market Streets
Sister Cities Park Visitor Center: 18th & Benjamin Franklin Parkway
Fairmount Park Welcome Center: 16th & John F. Kennedy Blvd (Love Park)
City Hall Visitor Center:  City Hall, Room 121
For more information, visit www.phillyphlash.com or call us at 1-800-537-7676
______________________________________________________________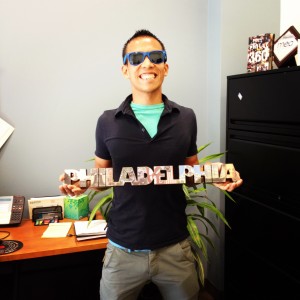 Albert Lee is Community and Content Manager for the Independence Visitor Center, the official visitor center for the city of Philadelphia.  For short, sweet and smart tips about your time in Philadelphia, follow us on twitter @PHLVisitorCntr .