About Our New Neighbor- City Hall
The imposing and elaborately ornate Philadelphia City Hall building takes up an entire city block in downtown Philadelphia.  The building's walls face each point of the compass and arched entryways open at the center of each facade, leading inward to a open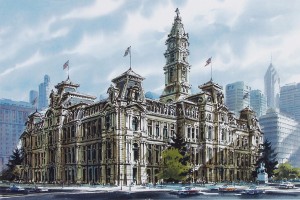 courtyard.  The structure is made of brick faced with white marble, limestone and granite and is finely detailed.  A wealth of classical sculpture peers down on you from among numerous columns, pilasters, and pediments.  It also has a richly adorned convex Mansard roof with many dormers.  But the most striking feature of the building is the large tower which rises several stories above the building's main block and is crowned with a bronze statue of William Penn.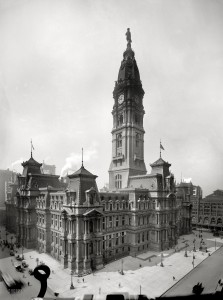 Although it was designed to be the tallest man-made structure in the world, it never achieved that honor because the Eiffel Tower was built before City Hall was completed.  In spite of this, at 511 feet in height, the building was the tallest habitable structure in the world until 1908.  It is currently the second tallest masonry building in the world, and for decades it was the tallest building in Philadelphia.  City Hall is now overshadowed by surrounding buildings, although it is still very visible and manages to maintain its place as a central point of focus within the city due to its elegant beauty and still significant size.
The building was designed and built in the late 19th century, although it wasn't actually completed until 1901.  Philadelphia's impressive growth during the 19th century made is imperative that the municipal government be given more space for its operations.  In 1869 a design competition for a new city hall was won by architect John McArthur, Jr.   McArthur designed the Second Empire style building with Thomas U. Walter acting as a consultant.  The building incorporates a large amount of sculpture which was designed by Alexander Milne Calder.
Construction began in 1871.  As certain parts of the structure were completed, they were put to use while construction of the rest of the building continued.  Construction went on for many years amid scandals of mismanagement and corruption, plus hostile public opinion.  The press often referred to the building as a "marble elephant" and "the Temple of the Taxpayers".  It was finally completed in 1901.
The building is still currently used by the city government of Philadelphia.  It is listed in the U.S. National Register of Historic Places and is a U.S. National Historic Landmark.