Be the Park King at PPA's 2013 Park(ing) Day Event!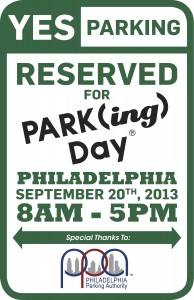 Sometimes, it's easy to forget that Philly is such a green city.
When we're rushing around in the shadows of staggering skyscrapers like the Comcast Center and Liberty Place, our metropolis can feel more like a concrete jungle than a diverse urban landscape with more than 60 neighborhood parks. That's why we are so excited to participate in Park(ing) Day.
The annual event, which began in 2005, unites citizens, artists and activists to collaborate to temporarily transform metered parking spaces into temporary public spaces called parklets. It promotes community and the enjoyment of outside spaces.
We've been involved with Park(ing) Day since its inception in Philadelphia. Last year, we became an official sponsor of the event and created our own temporary space; you can see photos on our Facebook page. This year, the PPA is once again sponsoring Park(ing) Day and we're so excited to share our plans for this year's parklet at Seventh and Market streets.
In addition to providing information about what the Parking Authority does for the city, there will be a prize wheel, where you can spin for a chance to win all kinds of swag—including free SmartCards! We'll have parking meters and art supplies so you can help create a unique piece of urban artwork. (Recently, York, Pennsylvania did something similar. Take a peek at their cool photos.) We'll also encourage people to put change into the meter to benefit our yearly Santa Express campaign, through which we donate toys, clothes and food to families in need during the holiday season.
 We'll also spend the whole day crowning The Park King! Swing by our parklet, deck yourself out in a crown and take a seat on the Parking Throne. The Park King can address his subjects, including the hard-working and dedicated parking enforcement officers and other PPA employees. And, of course, we hope you'll snap a photo and tweet it at us @PhilaParking.
For more information about Park(ing) Day in Philadelphia—including details on this year's after-party—follow @parkingdayphila.