Let Your Voice Be Heard: How Can We Make Taxis Safer?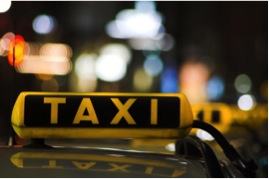 In 2011, the Bureau of Labor Statistics called taxi driving one of the 10 most dangerous jobs in America.
We know that whether you're hopping in a cab after a late night in the city or in the wee hours to catch an early flight at PHL, it's important that you and your driver feel secure and protected during your ride.
We know that you take this as seriously as we do, so we're happy to announce an opportunity to voice your concerns, share ideas and learn more about the precautions taken to protect riders and drivers. On September 18, 2013, at 1 p.m., join the Taxicab and Limousine Committee (TLC) for a meeting at the Convention Center, room 108 AB to discuss new safety precautions, including surveillance cameras, trouble lights, and the posting of public service announcements to increase awareness.
There are plenty of things to be scared of in this world. How you're getting from one place to another shouldn't be one of them.
What do you think can be done to make taxis safer? Come to the meeting to share your thoughts and ideas. Written comments may be sent to cmilstein@philapark.org, and any Taxi Complaints can be sent to taxicomplaint@philapark.org.