Behind the Scenes With the People Who Keep Our Taxis Running: Magnificent Mechanics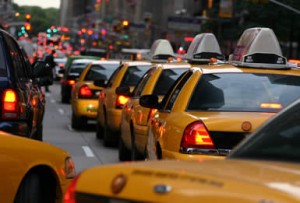 If you've ever visited Philadelphia, you know that taxis keep this city moving. Residents and visitors heavily rely on this service to and from the city's many neighborhoods. This week, we're spotlighting the people who keep the professional transportation services moving – to help keep us moving.
Taxis are inspected every six months. In Philadelphia, there are 1,600 taxis that the Taxi and Limo Division (TLD) Garage handles. If you do the math, that is 3,200 inspections per year, taxing the capacity at the TLD four-bay facility.
Let's learn more about the hands that inspect and fix the vehicles twice a year.   
Multi-dimensional mechanic Paul Bozza is Lead Mechanic and heads the Garage Inspection Unit at the TLD Garage This close-knit unit may be small in number, but the crew's performance output is extremely productive.
Bozza stated that the TLD Garage has the ability to handle up to thirty inspections a day during busy periods throughout the year. These inspections, which consist of emissions and safety testing, are a must: if the vehicles aren't compliant with the testing standards, they're pulled out of service. 
Current Philadelphia Parking Authority (PPA) standards require a vehicle to be no older than eight years and have no more than 250,000 miles registered on the odometer. The TLD helps keep that standard applied to each and every taxi in the city.
The TLD Garage doesn't just inspect taxi; they also handle approximately 20 percent of limousine inspections in Philadelphia. Limousines are also inspected twice a year. The garage crew is able to schedule up to four limousine inspections per day.
Tough PPA standards require a limo to be no more than eight years old and have no more than 350,000 miles registered on the odometer. Limos are also required to have a minimum of $1.5 million coverage in auto insurance.
Check back tomorrow for information about the hub of the TLD central intelligence.