Behind the Scenes With the People Who Keep Our Taxis Running: Amazing Administration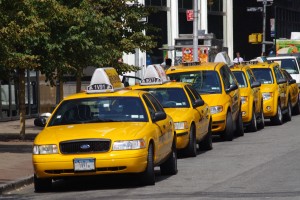 This week, we're introducing you to some of the people who make the wheels turn in our Taxi and Limousine Division. Yesterday, we spotlighted the magnificent mechanics who perform more than 3,000 inspections every year to ensure safe rides for everyone in the city. Today, meet the awesome administration staff …
At the hub of the TLD central intelligence are the under-staffed, yet highly efficient administrative personnel. 
 Under the watchful eye of the confident and talented Christine Kirlin, who manages the Administration Department and Office of the Clerk for the TLD, this conscientious bunch works seamlessly. Together, they serve as the front line of defense in maintaining and ensuring that taxi and limousine drivers and owners follow proper rules and regulations.
Faithfully staffing the busy customer service windows, these tireless workers handle hundreds of taxi and limo driver issues, including concerns with certifications, appeals, violation payments, questions and disputes.
The Administration staff is responsible for ensuring the accuracy of documents involved in the financial stability of applicants, compliance with the regulations and the reconciliation of the allocation of funds between the buyer and seller.
Timely billing, email correspondence to the large number of owners, and efficient communications are all a part of PPA's and the TLD's enhanced mission of improved rider safety and world class taxi and limousine service in Philadelphia.
Check back tomorrow for information about our hard-working cabbies.