Park Genius is Well… Genius!
Park Genius, the new parking smartphone app from  Tuscon, AZ is well … genius. It is an app for iPhone and Android that allows you to pay for your parking meter through your phone by using your credit card. It takes only 4 steps to start using the app!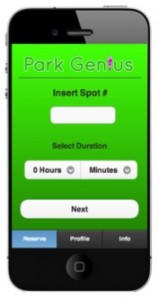 Install the app
Enter your location
Look for the Park Genius label on kiosks or meters and insert the spot IDnumber.
Select your duration of time.
Then you're done!
If you're away from your car for longer than expected, do not worry. Park Genius gives you the ability to add time remotely when you're away from your car.
Another feature of the app: it provides real time parking availability for both iPhone and Android systems. No more looping around the block, hoping a spot has opened up. The app will tell you about open spots even before you leave your house.
 But wait, there's more: If you forgot where you parked (we've all done it), Park Genius will even guide you back to your car when you're ready…AND you can use Google Street view to recognize where you parked.
 The only bad news is that currently Park Genius's only locations are in Arizona. They are, however, looking to expand and we hope to see them in Philadelphia soon!
https://twitter.com/TheParkGenius
http://www.facebook.com/TheParkGenius