Restaurant Week Returns! Discount Parking for January 2014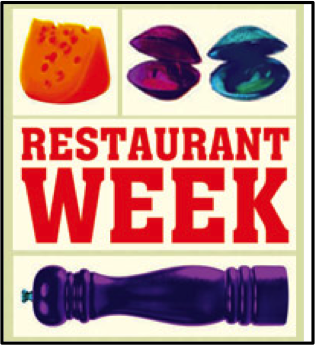 Let's talk about New Year's Resolutions. You probably committed to eating fewer calories, running more on the treadmill or saving a few extra bucks every week by cooking at home. (Us, too!)
Philadelphia Restaurant Week (@PhilaRestWeek) is here to throw you a curveball—a really delicious curveball.
From January 19 through January 24 and January 26 through January 31, Center City District hosts another round of its semi-annual dining-out event. Tons of local restaurants participate in the dinner deals, which include a three-course meal for $35 per person. (Some also offer cheap lunches, too, so you can still squeeze in your post-work treadmill time.) Make reservations online—or with their nifty new mobile app—because tables fill up fast. [Click HERE to view menus from all participating restaurants.]
 Because we know you still want to save a little while splurging on a night out, we're offering garage parking at a deep discount during Restaurant Week.  All you have to do is present a voucher from a participating restaurant between 5 p.m. and 1 a.m. at a participating PPA lot:

Autopark at Jefferson: 10th and Ludlow streets*
Autopark at the Gallery: 10th and Filbert streets*
Autopark: 8th and Filbert streets*
Autopark at Independence Mall: 5th and Market streets*
Autopark at Old City: 2nd and Sansom streets*
Surface lot at 801 Chestnut Street
Locations marked with * are automated. Patrons need to take their parking ticket and voucher to the management office to receive the discount
Even the most resolved among us can't pass up great deals like that. Happy dining!