Where to Park for Philadelphia's Chinese New Year
Chinese New Year is the most symbolic holiday celebration of the Chinese calendar. Starting on the night of January 31, the celebration continues through February 15, making it the longest of the classic Chinese celebrations. Ancient tales say that Buddha invited all the animals to celebrate with him. Twelve animals came and Buddha honored them by naming a year after each creature. According to legend, people born in a specific year will have similar personality traits of the animal that represented that year. We are entering The Year of the Horse, so babies born in 2014 should be perceptive, witty, talented, cheerful, skilled with money and work well with their hands.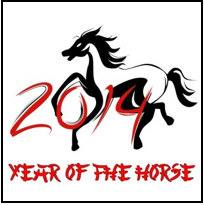 Chinese New Year was first recognized and celebrated in Philadelphia in 1960 at the Chinatown YMCA. Since then, the celebration has grown and become popular not only for the neighborhood's residents, but for people all across the Philadelphia region.
Chinese New Year is a time of family and friends reuniting and wishing everyone prosperity and fortune in the New Year. Neighborhood associations host banquets with incredible dishes and drinks.  People are decked out in red clothing from head to toe. Red symbolizes fire, and is believed to be the color to drive away bad luck. In fact, parents give good little boys and girls red envelops filled with "lucky money." Fireworks are also set off to scare away evil spirits. There are colorful parades, dazzling sights and more excitement then you can possibly stand!
If you're a novice to celebrating Chinese New Year, here are some possible events to consider:
Families with Children from China, the Delaware Valley Chapter is hosting a kid-friendly afternoon of fun and food on January 26from noon to 3 p.m. at the Joy Tsin Lau Restaurant. Find out more and buy tickets here.
Don't miss the Midnight Lion Dance Performance where you can celebrate with firecrackers and watch the amazing lion dances featuring the Philadelphia Suns. This parade will begin at 10th and Race and continue throughout Chinatown.  This a beautiful and inexpensive way for all to witness the majesty of the Chinese culture on Thursday, January 30 at 11:30 p.m.
The Philadelphia Chinatown Development Corporation (PCDC) is having two Chinese Lunar New Year Banquets to celebrate the holiday.  This is a "resplendent" dinner, during which many traditional Chinese foods are served to bring luck and good energy to the New Year. Seating is limited – only 40 spaces are available for each banquet! Find out more and buy your tickets for either day here.

Banquet #1 – January 31st  6-9 PM at the Rising Tide Restaurant
Banquet #2 – February 5th 6-9 PM at the Sang Kee Peking Duck House
Check the PCDC website for a complete list—and very frequent updates—of all of Philly's Chinese New Year action! 
Now, where do you park when you travel in to dive into all this fun? The PPA has parking in Chinatown to accommodate drivers for the Chinese New Year celebrations and we are offering discounts at certain events. BARGAIN ALERT: If you attend The PCDC Banquets and park at the PPA Autopark at the Gallery, you will receive a $3 off voucher for your parking that evening!  
PPA parking lot locations in Chinatown:
The AutoPark at Jefferson: 14-18 South 10th Street
The AutoPark at the Gallery: 10th & Filbert Streets