Scooter/Motorcycle FAQs: The Sequel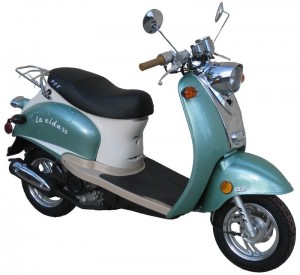 Update: 11-17-2014
Do you have more questions about the scooter and motorcycle pilot program? Well, we have more answers! Our July Board Meeting brought new questions regarding our scooter and motorcycle pilot program, which has been extended to the end of December 2014. Aside from input received at our Board Meetings, we've also been receiving valuable insight through our Facebook Scooter Feedback Tab. Since we're eager to keep the conversation rolling, we encourage everyone riding a two-wheeler in Philly to reach out to us through Facebook or Twitter with any questions or concerns. We're happy to help, and more importantly, listen.
In the meantime, check out the first round of FAQs, plus more FAQs below based on the questions we've gotten so far. If your question or issue hasn't been addressed yet, you know how to get a hold of us!
Question: I'm concerned about the safety of my vehicle, but I've heard there's going to be locking devices installed on some of the pilot program parking units before the full program rolls out. Can you tell me the locations and how many will be installed in this pilot program?
 Answer: Poles (locking mechanisms) have been installed in the following zones:
·     1100 Arch Street
·     1300 Arch Street
·     1500 Sansom Street
·     1700 Sansom Street
·     1800 Sansom Street
·     2100 Sansom Street
·     1700 JFK Boulevard
·     100 North 11th Street
Along with installing the poles, we have also repainted the lines in the above mentioned zones.  We will continue to install poles and repaint in the remaining zones throughout the city.
Question: Is there a map available of scooter and motorcycle parking locations?
Answer: Yes, there is a link on our website. When you click on a location, you will see the address, the street side where the zone is located and the number of spaces. Any feedback you would like to provide regarding the map would be appreciated. The link is:  https://mapsengine.google.com/map/edit?hl=en&authuser=0&mid=zZVVIBhESn0s.kZKdGUFSFbh8
Question: What corral locations have been expanded?
Answer:  Please see below for added and expanded corral locations.
16th & Ben Franklin: This zone has been expanded 20 feet.
17th & 18th & Callowhill: A corral has been added to our lot on 19th & Callowhill Street
Question: Allowing residential sidewalk parking is beneficial; please continue. Are you considering a type of city-wide residential permit that would allow residential sidewalk parking across districts?
Answer: On blocks posted for Residential Permit Parking (RPP), motorcycles/scooters may park on the sidewalk with a valid permit for that district, provided it does not block pedestrian access. When visiting an RPP area, the resident may provide a day pass to allow their visitor to park on the sidewalk in front of his or her home. On unregulated blocks, motorcycles and scooters may park on the sidewalk with the permission on the property owner.
Question:  Are there any plans for providing additional parking corrals in key areas where it's needed (e.g., the restaurant row in Passyunk Square)?
Answer:  Yes. Please see below for potential new locations in Northern Liberties and University City.
36th & Walnut Streets
40th & Walnut Streets
3200 Chestnut Street
3300 Market Street
Question:  Will the PPA reconsider the current, no-sidewalk parking rule in non-residential areas and evaluate whether minimal sidewalk parking in some business areas may be feasible?
Answer: Due to the density of pedestrians in commercial areas, permitting motorized vehicles on the sidewalk creates an unacceptable safety hazard and will not be permitted.
Question:  How do PEOs determine whether or not a scooter/motorcycle parked on the sidewalk interferes with pedestrian traffic?
Answer: There should be at least a four feet clearance for pedestrian traffic.