Where to Park for Terror Behind the Walls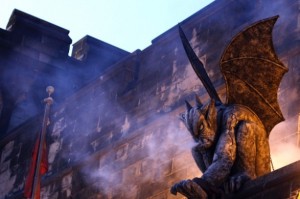 "One of America's darkest, most haunted prisons [and] best haunted houses," says Travel Channel's  Zak Bagans. He is of course speaking of Eastern State Penitentiary's Terror Behind the Walls, a nightmare-inducing exhibit that's guaranteed to leave you petrified. That's what you're paying for, isn't it?
So why would you PAY to be in prison? Let's be honest, it's not for the food or the good company, it's to experience a living nightmare. Being in prison could already be considered a nightmare, but when you throw blood thirsty zombies into the mix, the ghoulish fun of Terror Behind the Walls is just getting started.
Around every corner at 20th and Fairmount you'll find a different nightmare for each night of the week. Let's try to keep nightmares for slumber, not finding a parking spot. If you park at our 19th and Callowhill Garage, your car, unlike you, will have nothing to be scared about. It's only a 13 minute walk to 20th and Fairmount, plenty of time to mentally prepare for the horrifying experience that will ensue.  For other locations in the area, use the PPA's parking locator.
Regardless of where you park, Terror Behind the Walls will bring all the chills and thrills you expect during Halloween season.