Taxi Cabs Required To Accept Credit Card Payment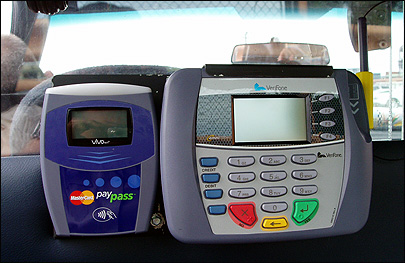 The Authority has received several complaints about taxicab drivers who have refused to accept credit card payments for fares of less than $10.00.  There is no law or regulation that permits a Philadelphia taxicab driver to refuse to accept credit card payments, regardless of the amount of the fare.
The cab may not be in service if the CC equipment is not functional.  If indeed the credit card processing equipment ceases to function, the taxicab driver must report the problem to the PPA's Taxicab and Limousine Division (TLD) and proceed to the Verifone Transportation Systems (VTS) Installation and Maintenance facility for repair.  Any other action by the driver in this particular scenario is in direct conflict with the Authority's Taxicab and Limousine Regulations and is subject to penalty.
Refusal of a credit card payment for a taxicab fare remains a violation of the Authority's regulations. See 52 Pa. Code §1021.11 (d).   When this occurs, the rider should call TLD Enforcement to file a complaint – 215-683-9440.
If the ride was actually completed, the rider should make sure a receipt is obtained which has all of the trip information necessary for the TLD to investigate the complaint; they are printed out with all of this information after the fare is paid.  Otherwise, be prepared to provide the cab's "P" number which appears in five inch letters/numbers on the front fenders and on the rear of the vehicle as well as  the company name on the front doors of the vehicle.  The date, time and location of pick up and the same for drop off.  The amount of the fare and tip. If  the passenger can provide identifying information for the driver involved (H# and name on driver ID posted on shield behind driver's head), that is helpful.
If you have questions related to this issue, please contact Jim Ney at 215-683-9417.
If cabbie wont accept a credit card – leave the cab and contact us at 215-683-9440 to report the issue. If cabbie gets hostile – call 911 immediately.
Connect with us on Facebook and Twitter for updates & resources.