Four-wheel Drive: Can It Really Go Anywhere?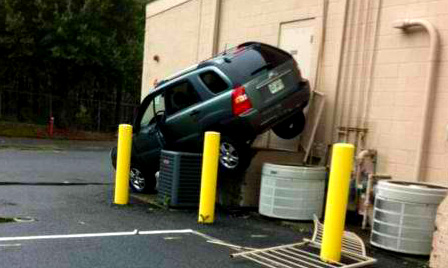 It seems that this driver was testing out the four-wheel drive feature of their SUV. Something tells me that driving on air conditioning generators turned out to be challenging terrain.
Or perhaps this is an extreme game of hide-and-go-seek with a car. The owner is rounding the corner in search of their car and BOO! Gotcha!
Maybe the driver was more interested in the convenient location to the back door entrance. We may never know how this car came to be,  but we can call it a VIP spot…"Very Incorrect Parking".