Restaurant Week: Meals at Astonishing Prices & Discounted Parking
Center City District Restaurant Week offers amazing meals at astonishing prices and discounted parking!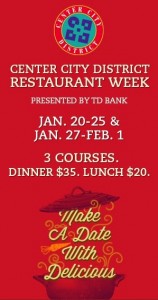 Center City District Restaurant Week (presented by TD Bank) begins this Sunday, January 20, and runs through Friday, January 25, and again on Sunday, January 27 through Friday, February 1.
This year, 127 restaurants are offering three-course dinners for only $35 per person, and some of these will also be offering a three-course lunch for $20.  In addition, a select group of restaurants are extending their special Restaurant Week menus to Saturday, January 26!  Find out all the details, see the menus, and make reservations here, or easily access this information on the mobile website .
Also, during Restaurant Week,  the Philadelphia Parking Association and Philadelphia Parking Authority will offer parking at a deep discount of $9 or less at dozens of lots and garages all over Center City. All you have to do is present a voucher from a participating restaurant from 5 p.m. to -1:00 a.m. Participating parking facilities will be identified with a "Center City District Restaurant Week Presented by TD Bank" poster at their entrance.
Here's a link to a map and a list of all the participating facilities.
For updates and more info follow @PhilaRestWeek on Twitter.
Make some reservations and enjoy this fabulous dining event in Center City, home to some of the best restaurants in the world!