Philagenerosity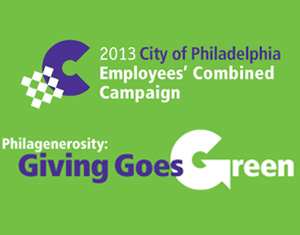 Philadelphia is once again upholding its reputation as one of the most generous, charitable cities in America through the 2013 Combined Campaign.
The Combined Campaign gives Philadelphia city employees the opportunity to rally together and donate to a variety of charities. City employees choose an organization of their choice, with charities ranging from environmental to children and youth education services. Together, the employees raise money to better their city, country and world.
Philadelphia has long been a leader across our nation in municipal campaign giving, raising $36.6 million for numerous charities. Despite difficult economic times, our employees understand that every charitable dollar is important. Last year alone, city employees and retirees raised nearly $1 million. The donations went to 14 umbrella agencies and 2,500 nonprofits.  These contributions help to ensure that our citizens are healthy and our environment thrives. They also ensure that we continue to advocate for civil and human rights, and raise awareness about other critical issues.
Starting this year, employees on Central Payroll can make their 2013 Campaign payroll deduction contributions online. This system is quick, easy, secure and "green," in that contributors no longer need to print, copy or mail their payroll deduction donations.
Citywide, Mayor Michael Nutter has led the charge in this successful campaign and is once again asking for all city employees to participate, including the Philadelphia Parking Authority.  We're happy to meet Mayor Nutter's request and will join the other city employees in maintaining our reputation for our "Philagenerosity."
Here at the Philadelphia Parking Authority, William Raymond and Serena Blanco, Combined Campaign Co-chairs, are asking co-workers to donate what they can. Even a  donation of just $1 per pay adds up to a gift of $26 to the charity of the contributor's choice at the end of the year.
All employees are being asked to be as generous as they possibly can afford. Truly, all the gifts, big and small, can help change a life.