Urban Commuting: Pedals & Petrol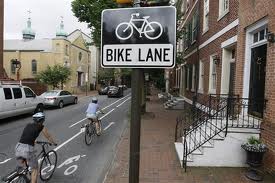 The Philadelphia Parking Authority is committed to making our city better, safer and more accessible—not just for motorists, but for cyclists, too.
Philadelphia has twice as many bicycle commuters, per capita, than any other big city in the U.S. With that many cyclists, their safety and rights become just as important as those of motorists.
That's why when we began replacing meter heads with kiosks; we entered into a discussion with the Bicycle Coalition and the Mayor's Office of Transportation & Utilities (MOTU) about re-purposing the empty poles for bicycle racks. The city then got a grant to purchase the blue and silver racks you see around the city, and PPA staff installed them. The locations were determined by the MOTU and the Coalition.
We also worked with the Streets Department to remove some on-street parking to install bicycle corrals to increase the number of locations to securely park bicycles. We continue to respond to suggestions for locations where bicycle corrals would be helpful.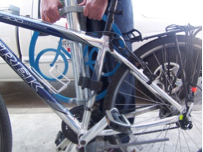 As the number of cyclists increases we want everyone to stay safe on the road. While some drivers like to think they rule the roads, the law says otherwise. Since April 2, 2012, a Pennsylvania state law requires that motorists allow at least four feet between their vehicle and a bicycle for the vehicle to safely pass the cyclist. Whether motorist is passing the cyclist on a narrow or wide street, in all cases motorists should pass at a careful, reduced speed. When it's safe to do so, motorists can cross the center double yellow line, if necessary, to create that four feet space when passing a bicycle.
The law also protects cyclists by mandating that motorists yield when a cyclist is approaching.  No turn by a motorist should interfere with a cyclist proceeding straight on a roadway or shoulder. If you're part of Philadelphia's ever-increasing cyclist population, here are some bicycle safety tips from the Streets Department to keep yourself–and others–safe on the road:
Wear light-colored, reflective clothing so you can be seen

Consider wearing an approved helmet and other protective gear

Children under 12 years of age must wear an approved safety helmet

Ride on the right side of the road

Signal your turns in advance

Consider attending training to obtain the skills necessary to ride safely on the road
Motorists and cyclists alike can find more information on laws and tips on this fact sheet: Bicycle Laws, Safety Tips for Motorists.
For safe bicycle routes all over the city, check out this interactive map of Philly bike lanes.