Keep Your Eyes on the Road – Too Much is at Stake!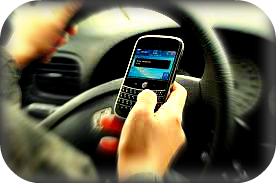 Texting, emailing, Tweeting and Facebooking while driving is many things: distracting,dangerous, reckless, stupid, potentially deadly and costly.
At the Philadelphia Parking Authority, we know one way to avoid all the pitfalls of distracted driving—just don't do it. If you need a reason to stay focused on the road while driving, take a look at the numbers:
There are nearly 200 million licensed drivers in America – so on any given day, you're likely to be near one of those other drivers.
39 states, plus the District of Columbia, have banned texting while driving.
The penalties for driving while texting vary by state. At a minimum, you're facing a $50 fine plus court fees; at a maximum, the fine is $10,000 and a year in jail.
Focus Driven, a cell phone-free driving advocacy group, found that on average, texting causes drivers to look away from the road for 4.6 seconds. At 55 mph, the vehicle travels the length of an entire football field – including both end zones – while the driver isn't looking.
The Virginia Tech Transportation Institute found that texting while driving increases your chances of a crash by 8 to 23 times.
The National Safety Council (NSC) estimates that 1.6 million crashes each year are caused by drivers using their handheld or hands-free cell phones and texting while driving.
According to Online Auto Insurance (OAI), just one texting ticket could result in an annual auto insurance increase of $74, on top of the fines associated with the ticket.
The Centers for Disease Control and Prevention (CDC) estimates that nine people are killed every day, and 1,060 people are injured, in crashes that involve a distracted driver.
The numbers don't lie, and teach a valuable lesson: don't be a distracted driver. Eliminate the temptation by turning off your phone, your iPad and any other device, and keeping your focus on the road and the other drivers around you.