#UnblockBikeLanes: New Hashtag Helps Identify Problem Spots for Cyclists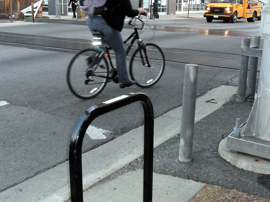 A few weeks ago, we worked with our friends at the Bicycle Coalition of Greater Philadelphia (BCGP) to explain the importance of bike lanes in our city. We learned a lot from the team at BCGP—including that the cycling community in Philadelphia would love a way to talk directly to the PPA when they see cars parked in bike lanes.
"The perception is that there is parking occurring in bike lanes kind of wantonly and without repercussions," said Sarah Clark Stuart, policy director of the BCGP. "It would help if people could feel like they could report something and the PPA could take it seriously."
That made a lot of sense to us so we put our heads together and came up with a plan.
If you're a cyclist and you notice a car parked in a bike lane, tweet us with the location and use the hashtag #unblockbikelanes.
We'll keep close watch of this hashtag to help us identify chronic problem areas throughout the city and make plans for the future. While we can't promise that enforcement can be dispatched for every single tweet we receive—the logistics of that are just too complicated since cars often move before our parking enforcement officers can get to them—we are committed to working closely with the cycling community on this issue.
 "Bike lanes are an important part of the traffic landscape in Philadelphia," says PPA Senior Administrator Sue Cornell. "We heard what the BCGP had to say and we want to know where these problem spots are so we can know how to best serve the city."
Don't forget to follow the PPA on Twitter at @PhilaParking!