Santa Express Brings Holiday Happiness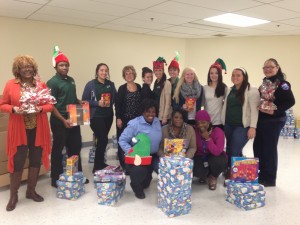 Did you know that Santa's workshop is actually on Market Street?
 Amidst the hustle and bustle of the holiday season, elves disguised as PPA employees volunteer their time and their kindness to Santa Express, a holiday gift drive that reaches about 250 people.
Our yearly charity work has humble beginnings. In 2004, Philadelphia's winter was so cold that the city classified it as "code blue." Concerned about the frigid temperatures, four big-hearted staffers volunteered to collect coats to pass out to the homeless. The collection was such a success that the staffers decided to continue their work.
By the next winter, Santa Express had been born. It's a simple concept—bringing toys and a Christmas feast to families in need—but the organization involved is staggering. Each year, PPA volunteers spend months collecting donations from other staffers to help with the cost of toys, games, food and other surprises from a fleet of Santas and elves. In the weeks leading up to the delivery, volunteers spend late nights, weekend and lunch hours shopping for gifts, packing food baskets and wrapping, wrapping, wrapping.
On the night before Christmas Eve, a fleet of PPA trucks—all decked out to look like reindeer—are dispatched throughout the city to give gifts to everyone on the Santa Express list, which is done through a nomination process.
Our staffers nominate families who could use a little extra Christmas cheer. We've received nominations for family members, neighbors, friends and even people who our officers have met while working on the streets of Philadelphia. In 2005, we helped about 30 families and this year we are on track to help about 70 families—totaling about 250 people.  In nine years, we are proud to say that Santa Express has NEVER turned down a family.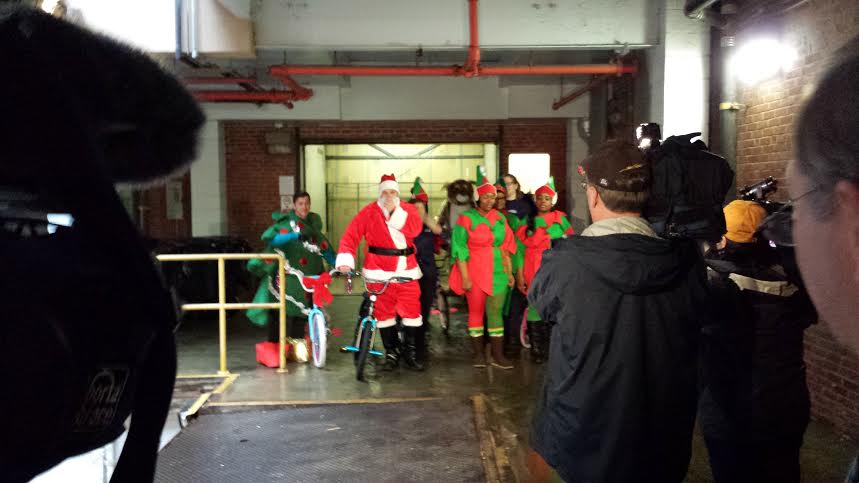 The PPA employees who work on Santa Express love what they do because of the happiness this project brings to so many people. Darla, who works in Risk Management, got involved with Santa Express when she nominated two girls who had recently lost their mother. She says that after seeing the utter joy of the children, she knew that Santa Express was a memory they'd never forget. Bernie, who works in our Kiosk Department, has been volunteering since the coat drive in 2004 and says that she believes in the importance of Santa Express because it's the right thing to do. (Bernie also did ALL the toy shopping this year on Black Friday!)
Over the years Santa Express at the PPA has grown bigger than anyone could have imagined back in 2004! Employees look forward to it every Christmas season and it is a tradition that reminds  everyone at the PPA of the true meaning of Christmas.